Costa Rica Nicaragua Tour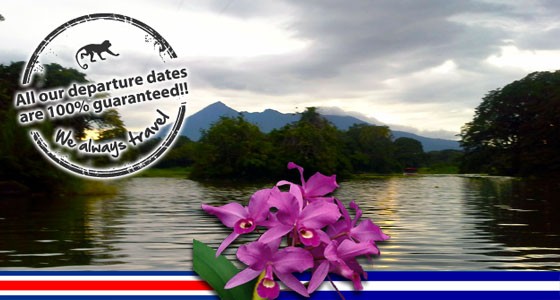 Costa Rica Nicaragua Adventure Tour: During your
eight-day tour, you will discover the diversity that Costa Rica &
Nicaragua have to offer. We have designed the perfect package so that
you can experience and enjoy all that these two neighboring countries
have to offer. A spacious touring bus, English speaking guides, and
4-star resorts & hotels will provide for your travel comforts along
the way. With exceptional attention to detail, we provide you with
everything you need to experience the most amazing tropical attractions
available and enjoy, discover and experience these two beautiful Latin
American countries to the fullest.
During your travels with Costa Rica Monkey Tours, you will enjoy zip
line and skywalk tours through the rainforest canopy, river rafting,
horseback riding tours through the countryside, waterfalls, guided bird
watching, authentic traditional pueblos and cities, tropical rain and
cloud forests, and amazing beaches. Our eight day package includes
airport shuttles, transportation between visiting locations, and
lodging at the best hotels or resorts each country has to offer,
including the Hilton, Baldi Spa & resort, Hotel Borinquen , Hotel
Granada and Hotel Villas Playa Samara.

Adventure & Discovery

Costa Rica
Nicaragua.
Eco-Discovery
Adventure and Excitement
Cultural Exploration
DAY 1 . LIBERIA
Upon arrival at the Liberia International Airport, you will find the Hilton Garden Inn
shuttles at your disposal. These shuttles will transport you directly
to your first hotel so that you can take advantage of your first day of
vacation. This day is free for you to relax and prepare for your
adventure expedition that will begin the following morning. We invite
you to relax in the comfort of the Hilton or discover the city of
Liberia. You will be able to find great onsite amenities for your
comfort such as a swimming pool, fitness room, restaurant, bar, spa
services and more.
DAY 2 . ARENAL
Your day starts with a hardy breakfast at the Hilton in company of
your guides, your driver and your fellow tour members; this gives you
the opportunity to get to know everyone before your adventures begins.
You will begin your tour in the direction of the Arenal Volcano town of
La Fortuna, known for being one of the most remarkable natural wonders
of Costa Rica. Since its first eruption in 1968, the volcano has become
one of the main attractions for travelers from around the world.
Although the volcano has entered a phase of rest since 2010, with a
height of 1633 meters, and rising above a grandiose rainforest that
surrounds its base, the Volcano remains an impressive scene to be
observed. This area of Costa Rica offers you a multitude of activities
and the charming town of La Fortuna will enchant you.
On the way to the town of La Fortuna, you will be driven along
beautiful lake Arenal, crossing the town of Cañas, and passing by a
beautiful wind farm idyllically set among the virgin forest near the
lake.
In Collaboration with Wave Expeditions, you will
enjoy the adventure of a river-rafting trip on the Balsa River, where
thrills and hours of fun are yours for the entire morning. Imagine
floating 10 kilometers (nearly 6 ½ miles!) on one of the most beautiful
rivers in Costa Rica, right through the center of the rainforest! Snacks
are offered during the trip down river and a delicious typical lunch
will be waiting for you at the end of the tour.
For the grand finale of Day 2, we will take you to the beautiful Baldi Hot Springs Resort and Spa.
Baldi is home to one of the largest hot springs locations in the world,
boasting 25 thermal waters pools of different shapes and sizes, and
nestled within in the misty tropical jungles of Costa Rica. You will
enjoy the rest of the day at your leisure and spend the night at this
beautiful resort that offers you breathtaking views of the Arenal
Volcano.
Dinner is on your own and you can choose from the many area restaurants or the hotel dining area.
DAY 3 . RINCON DE LA VIEJA
On day 3 you will enjoy your breakfast at the Baldi Resort and you
will then take the road to Rincon De La Vieja region in Guanacaste,
where a full day of adventure awaits you. It is at the enchanting Hotel
Borinquen that you will enjoy all of your activities for the day. Your
adventurous day includes a horseback riding tour, zip lining through the
forest canopy, a visit to the Mystery Waterfall and, a relaxing
afternoon at the natural pools, sauna, and volcanic mud baths. The Hotel
Borinquen is nestled on the slopes of the volcano and the vegetation is
beautiful. It is within the comforts of this paradise resort that you
will enjoy your stay for the night.
Lunch is included on day 3 and you are on your own for dinner. There
are two lovely restaurants, a snack bar and a poolside bar at the hotel
for your convenience.
DAY 4 . GRANADA , NICARAGUA
You will enjoy an early breakfast at the Hotel Borinquen
and depart at 6:30AM for the Nicaraguan border. A unique experience
awaits you, as you will be en route to the colonial city of Granada,
which is famous for its unique and well-preserved colonial architecture.
Founded in 1524 by Francisco Hernandez de Cordoba, Granada is the
third largest city of Nicaragua with a population of over 120,000
habitants. Dominated by the Mombacho volcano, Granada is located on the
shores of Lake Nicaragua. It is on this lake that you will begin your
Nicaraguan adventure by touring on a boat throughout the channels of Las
Isletas (Little Islands), an archipelago conformed of 365 small islands
made by volcanic material. The economy of Granada was long based on the
timber trade, raw cocoa and crafts, but it is now considered
Nicaragua's biggest tourist attraction.
After your visit to the islands you will enjoy a lunch together and
then you will head in direction of your hotel for the night; the
prestigious Hotel Colonial,
situated in the heart of Granada. You have the rest of the day free to
discover this beautiful city, its churches, museums and the central
market. We recommend that you take a walk through the central park of
Granada where you will find beautiful horse-drawn carriages that offer
you a complete city tour. Or if you prefer to walk, attractions abound,
whether you decide to visit the Convent Of San Francisco, the cigar
factory and Mombacho, or simply take a walk on the Granada Calzada
("main street") home of so many restaurants, boutiques and shops that
you will fall in love with this unique colonial central American town.
DAY 5 . VOLCANO AND SAN JUAN DEL SUR
You will enjoy breakfast at Hotel Colonial and we'll depart at 8:00
am for a short walk to the observatory of La Merced Church, where you'll
be able to take one last picture of an impressive panoramic view of
Granada to start the day. We will then jump on the road in the direction
of our second attraction of the day, The Masaya Volcano National Park.
This park was established in 1979, and has an area of 54 km2, which
consists of roads and trails that lead to each of the five volcanoes
that are found in the park. Our visit on this occasion will be to the
Volcano of Masaya, which is active; you will be amazed at the depth of
the crater, and the impressive views.
Next we will then hop on the road in direction of the artisan town,
and market, of Catarina where you will have the opportunity to purchase
local souvenirs and enjoy a breathtaking view of the Laguna de Apoyo.
Finally, we will head towards the surf beach town of San Juan Del
Sur, Nicaragua's # 1 beach destination for a delicious lunch at a local
beach restaurant. If you love seafood, we recommend you try the lobster
tails for just about $8 a plate.
We will then head back to Costa Rica in the late afternoon for the final stop of the trip, Hotel Villas Playa Samara.
Dinner will be on your own at the restaurant in Villas Playa Samara
or any of the wonderful restaurants in the nearby town of Playa Samara.
DAY 6-7 . SAMARA
On day 6 and 7 you will be staying at the Villas Playa Samara where
you will be able to enjoy one of the most beautiful beaches of Costa
Rica, which has been recognized as the second best beach in Central
America by tripadvisor.com.
Villas Playa Samara is an ideal destination to relax and explore the
charming fisherman village of Playa Samara. For those of you who wish to
continue your adventure, there are a multitude of activities available
on site. We recommend the water sports, whether it be fishing, kayaking,
surfing or just swimming in the Pacific Ocean. Whether on foot, on
bicycle or a scooter tour, you'll enjoy plenty of opportunity to
discover the area. If you prefer to just relax you will be able to enjoy
Villas Playa Samara spa services with a special two-for-one discount on
SPA packages for the Costa Rica Monkey Tour adventurers.
Note that a Monkey Tours team is located directly at the hotel and
will remain with you until the end of your vacation with us in order to
assist with all your vacation needs or desires.
DAY 8 . Homeward Bound
Our shuttle services will take you back to the Liberia airport in time for your return flight home.
Terms and Conditions:
15% Taxes and Fees not included.

• Must arrive on a Monday or a Thursday for our 2014 departures dates.

• Schedule traveling is mandatory you cannot skip any activities or
traveling 
otherwise you will need to cover any additional costs, please
let us know if you are unable to proceed with an activity to provide
alternatives if applicable.

• Up to 2 additional persons are accepted in the same room, charge per
adult $849 and for kids under 12 is 
$549 for the whole package.

• Subject to Availability.

• Must sign wavers.

• Airfare not included.

• Some Adventure tours have ages, height, weight and health restrictions.

• must be 18+ to check in at hotels or have a responsible adult for this tour.

• Credit card and valid ID is required upon check-in.

• Please contact our customer service department for an accurate quote
for your selected dates. All prices are in US $ plus fee's and taxes
(15%).

• All hotels or activities providers selected and offered on this tour
may be changed at anytime & for any reason by Costa Rica Monkey
tours.
Restrictions:
Must be 18+ to check in.

• Credit card & ID required at booking & check-in.

• Age, height, weight, and health restrictions may apply; must sign waiver.

• In case of missed transportation, traveler responsible for own transportation.

• Airfare and 15% fee's & taxes not included.

• Scheduled traveling is mandatory you cannot skip any activities or
traveling in case of missed transportation traveler are responsible for
own transportation + may also miss daily scheduled activities these
cannot be rescheduled individually.
Cancellation Policy:
From anytime to 30 days prior to start of tour: the cancelation Fee is 50% of tour price.

• 30 days or less prior to start of tour or during tour: Fee is 100% of tour price.

• Time of cancellation will be when notice is received by Costa Rica Monkey Tours office.